at Seven Stars Alpaca Ranch

Visit Us At The Seven Stars Alpaca Ranch
You are always welcome to come and visit the Seven Stars Alpaca Ranch in Coeur d'Alene, Idaho. Please use the contact form to the right or call us at 208.755.4925 to schedule an appointment.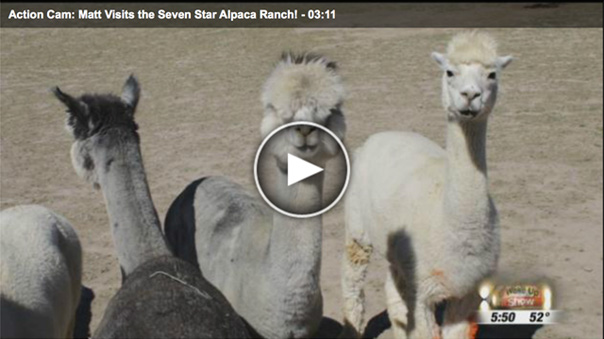 <<< OUR FALL/WINTER HOURS - WEDNESDAY, SATURDAY AND SUNDAY AND ONLY >>>
FALL TOURS: WEDNESDAY, SATURDAY AND SUNDAY ONLY.
All tours start promptly at 11 A.M. and take about 90 minutes. Please check with MapQuest or Google Maps for the length of time to arrive from your starting point to the ranch.
PLEASE CALL IN ADVANCE TO LET US KNOW THAT YOU BE ATTENDING SEVEN STARS ALPACA RANCH. This will help us give you a perfect guided tour.


<<< TOUR PRICES (Cash and Checks Only)>>>

- $10 for everyone over 12.
- $5 for kids, toddlers free.

Also In order to keep your costs down, Seven Stars Alpaca Ranch ONLY ACCEPTS CASH OR CHECKS for our tours and merchandise. Thank you of planning ahead.
We have a lovely alpaca store for you to browse as little or as much as you would like.
***All organizations, such as book clubs, 4-H, school functions, churches, charity groups or any others wishing to have a private tour, please call for our prices which are different then the ones stated.

-----

PRIVATE PARTIES: BIRTHDAYS, RETREATS, CHURCH GROUPS

At Seven Stars Alpaca Ranch we love to share our ranch and animals with larger groups. THERE IS A MANDATORY RESERVATION FOR THESE GROUPS. Rates are available upon request and based on the event and number of guests attending. Please call us at 208.755.4925 to reserve your time on the ranch.

-------------

We don't stand on a lot of ceremony, so you'll probably find us in our t-shirts and work jeans raking manure. (We always have an extra rake on hand if you've never experienced life on a working ranch.)
Children are always welcome, and must be supervised at all times. I will bring out toys for them and most likely a cookie or two (with parent's permission, of course).
We always have a pot of coffee on and cool drinks in the fridge. We encourage you to enjoy the surroundings and the day with our farm animals. It just might be the day you fall in love with an alpaca.
We believe you'll leave Seven Stars Alpaca Ranch having shared a few laughs, created a few memories, and taken a break from the stresses of daily life.



"What Would You Attempt To Do If You Knew You Could Not Fail?"
This is one of my favorite sayings. And when we asked ourselves this question, we answered "We would start an alpaca ranch". After falling in love with a little suri alpaca by the name of Bambi, we decided that our ranch would best be served by becoming an alpaca ranch. The alpacas share the ranch with our horses, goats, chickens, and of course some great dogs. Over 100 wild turkeys, several deer, and numerous elk also graze the abundant pastures.
If you are going to start a new business, why not do something that gives you great pleasure? Why not be passionate about your work? If it is truly a calling your chances of being successful are much greater. Our idyllic forty acre ranch is the perfect place to raise alpacas and other livestock.